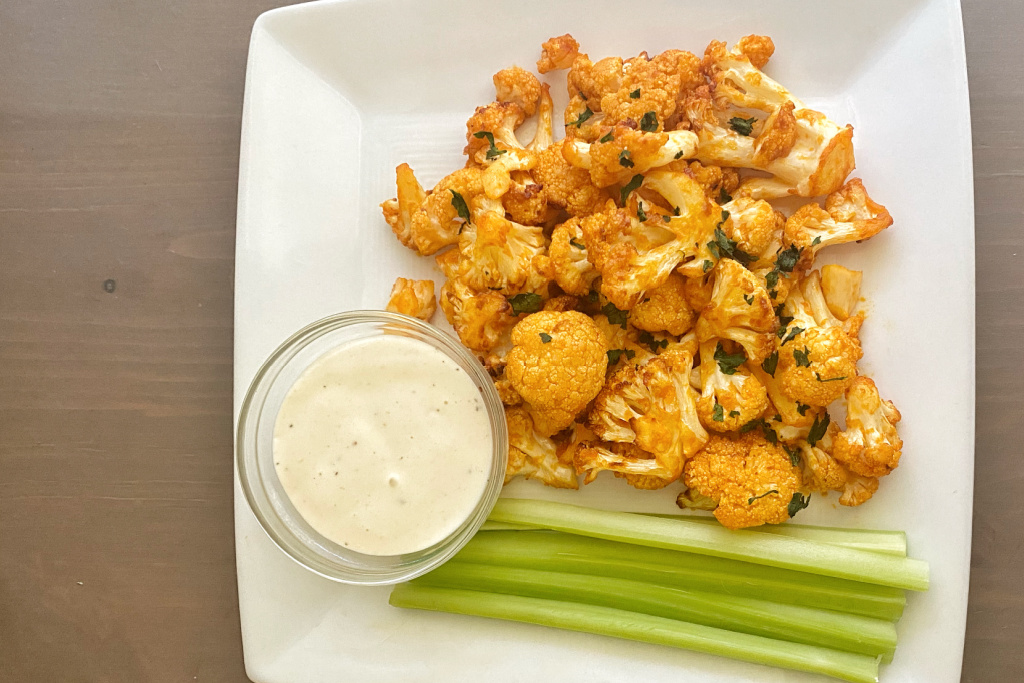 Some of the links in this post may be affiliate links. This means if you click on the link and purchase the item, I will receive an affiliate commission at no extra cost to you. All opinions remain my own.
I'm not exactly a huge sports fan but my husband is and we have 2 young boys. Since we won't be attending any sports bars or parties, I want to create a fun environment with a couple of game day air fryer recipes. Here's what's on the menu.
Air Fryer Buffalo Cauliflower
Prior to going pescatarian, ordering buffalo wings was one of my favorite appetizers (especially when I was pregnant). Air fryer buffalo cauliflower satisfies the spicy-salty craving without the meat. Plus, this recipe is perfect for those of you that are into semi-homemade dishes.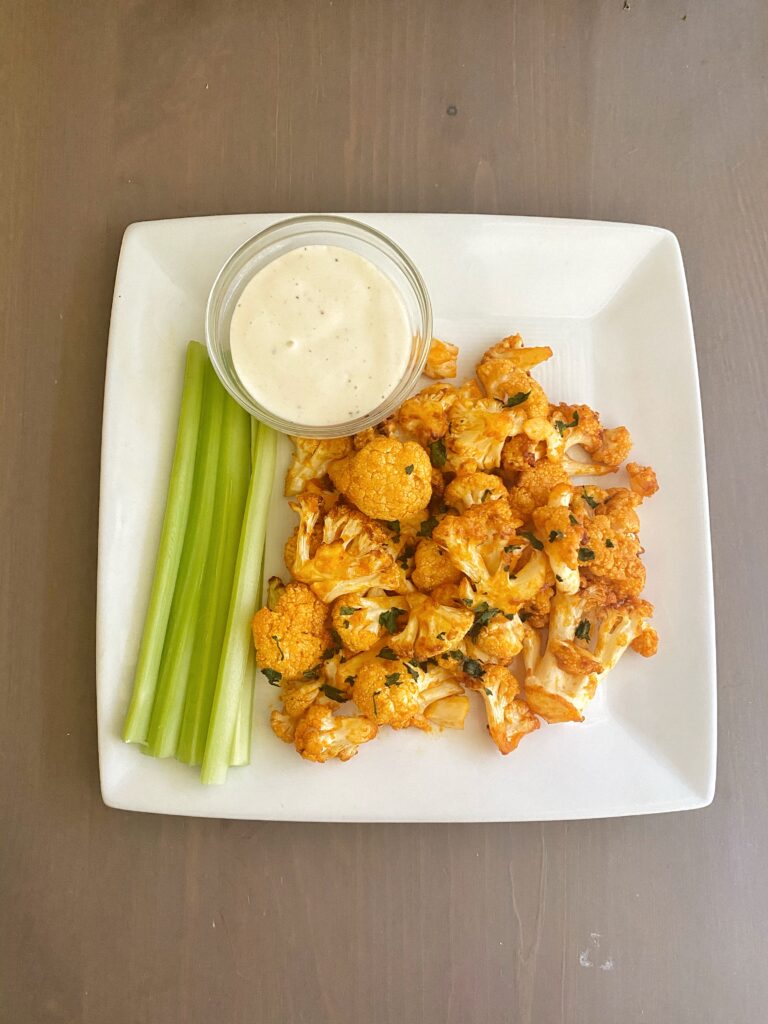 Ingredients
1 Bag of Precut Cauliflower
1 Bottle of Buffalo Wing Sauce (Sweet Baby Ray's Buffalo Wing Wing sauce is tasty!)
Olive Oil
Garlic Powder
A Dash of Salt
Nonstick Spray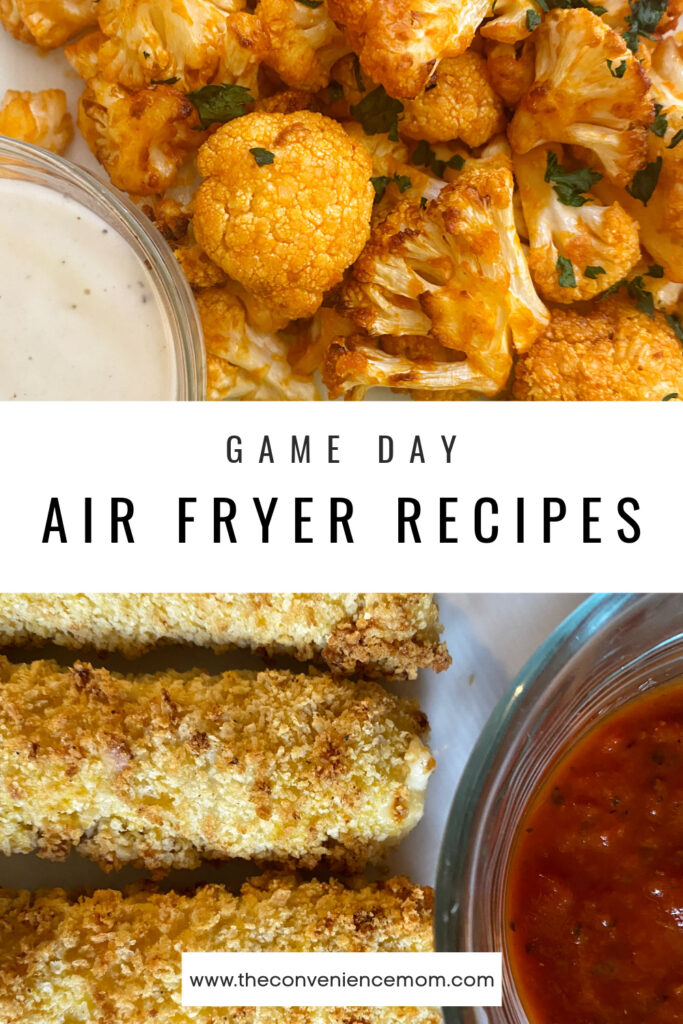 You can prep the cauliflower by either using a mixing bowl or a disposable ziplock bag (my preference). Begin by pouring the bag of precut cauliflower into a large ziplock bag (or the mixing bowl). Then add a generous amount of your favorite Buffalo wing sauce and the remaining ingredients. Shake the contents well until the cauliflower is completely saturated.
Preheat the air fryer for about 3 minutes (follow the directions for your air fryer for accuracy) at 375º. Be sure to have the crisper plate in place first.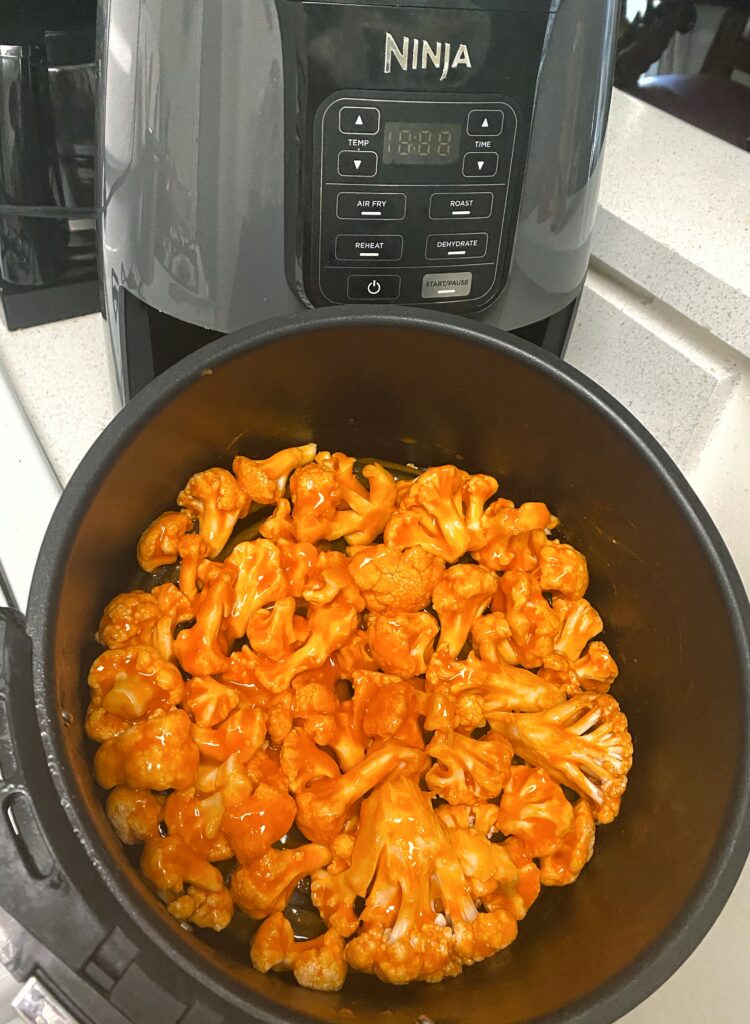 Spray a light coating of nonstick spray onto the crisper plate. Then, pour the marinated cauliflower onto the crisper plate in a single layer (make sure not to overcrowd!). Set the air fryer to 375º for 12-15 minutes. Check and shake occasionally. The cauliflower should be slightly browned when it's ready.
Sprinkle with parsley (optional) and serve with celery and your favorite creamy dressing.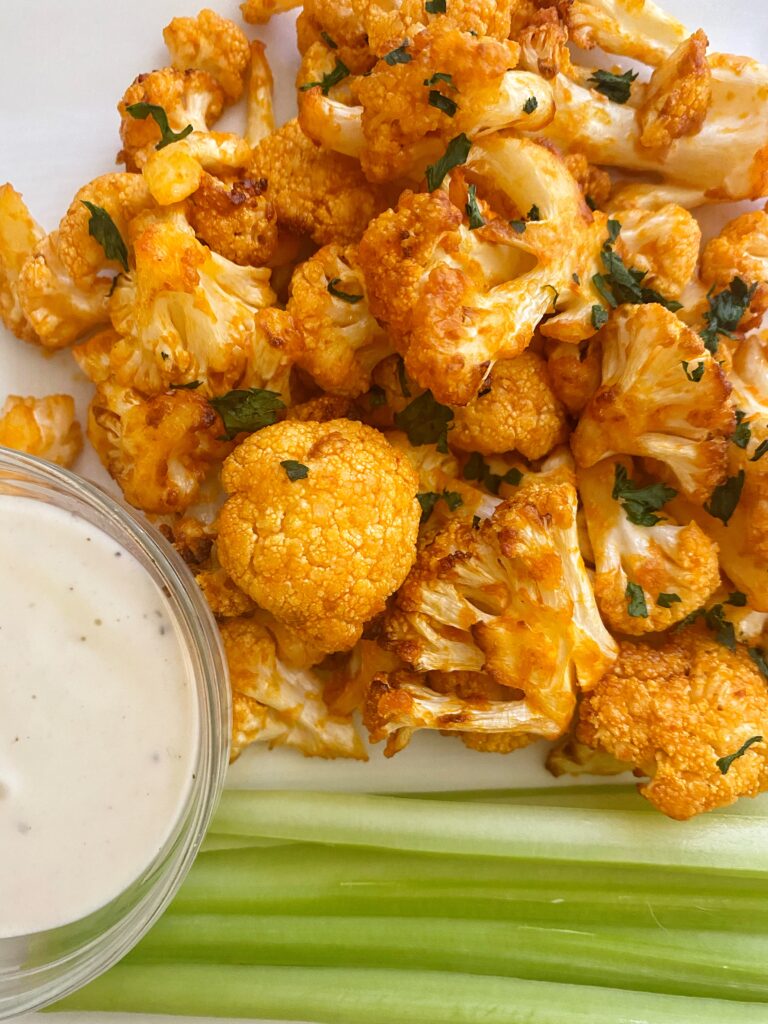 Air Fryer Mozzarella Sticks
Since string cheese is always available in our refrigerator, I thought I'd experiment and make mozzarella sticks. My kids absolutely love this and it makes for a great appetizer. For this you will need: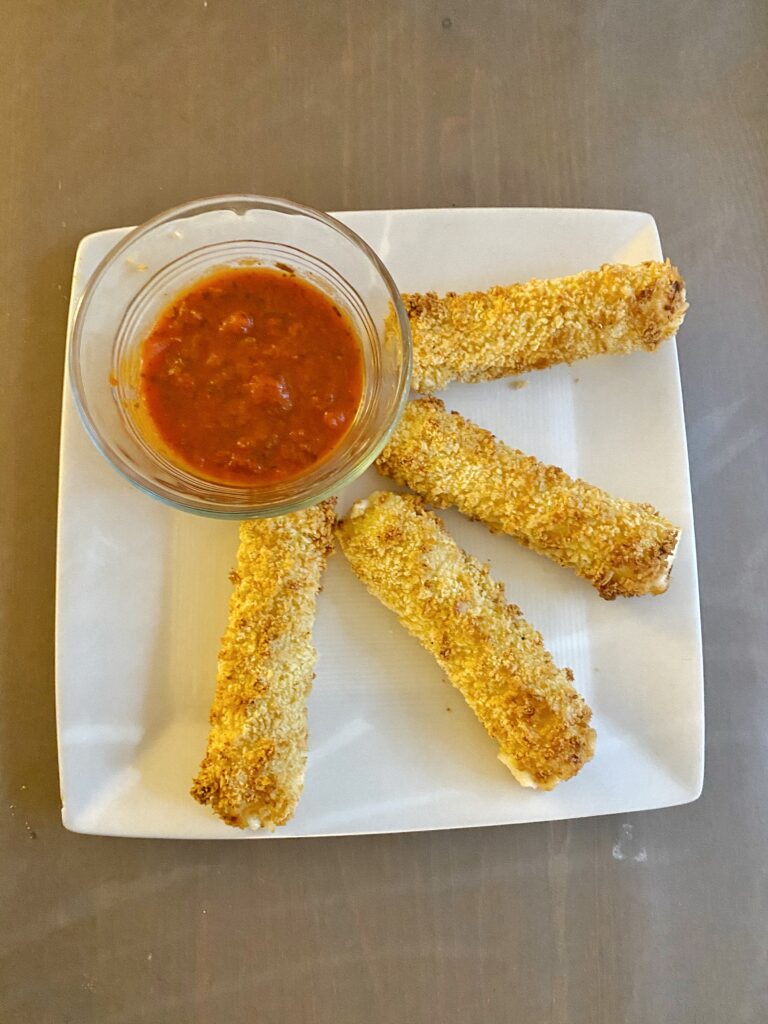 1 Bag of String Cheese
Flour
Breadcrumbs (Panko is a great choice!)
Onion Powder
Garlic Powder
Paprika
Salt
Start by removing the string cheese from each wrapper. Place string cheese on a plate lined with parchment paper and place in the freezer for 30 minutes. This process will help the cheese from melting too soon while it's inside the breadcrumbs.
Next, prepare for the breading. You will need a plate with flour on it, a bowl containing the beaten eggs, and a plate with the breadcrumbs and seasonings.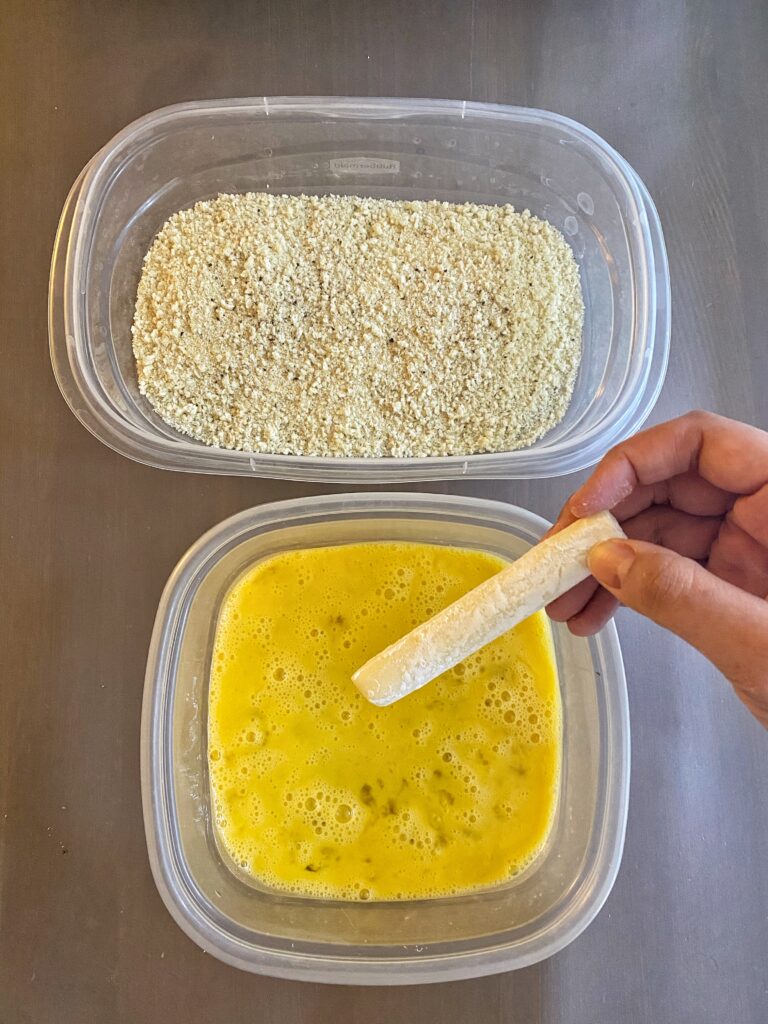 After the string cheese has been removed from the freezer, place them into the flour and roll them around until each one has been evenly coated.
Then, dip each one into the egg wash and immediately roll them into the breadcrumbs. Place them back onto the plate with parchment paper and into the freezer for another 30 minutes.
After 30 minutes, repeat the breading process by dipping each mozzarella stick into the egg wash and the breading.
Preheat the air fryer to 390º for 3 minutes then lightly coat the crisper with nonstick spray. Add a single layer of the mozzarella sticks to the crisper plate and cook on 390º for 7-8 minutes. Check occasionally to ensure it is browned to your liking.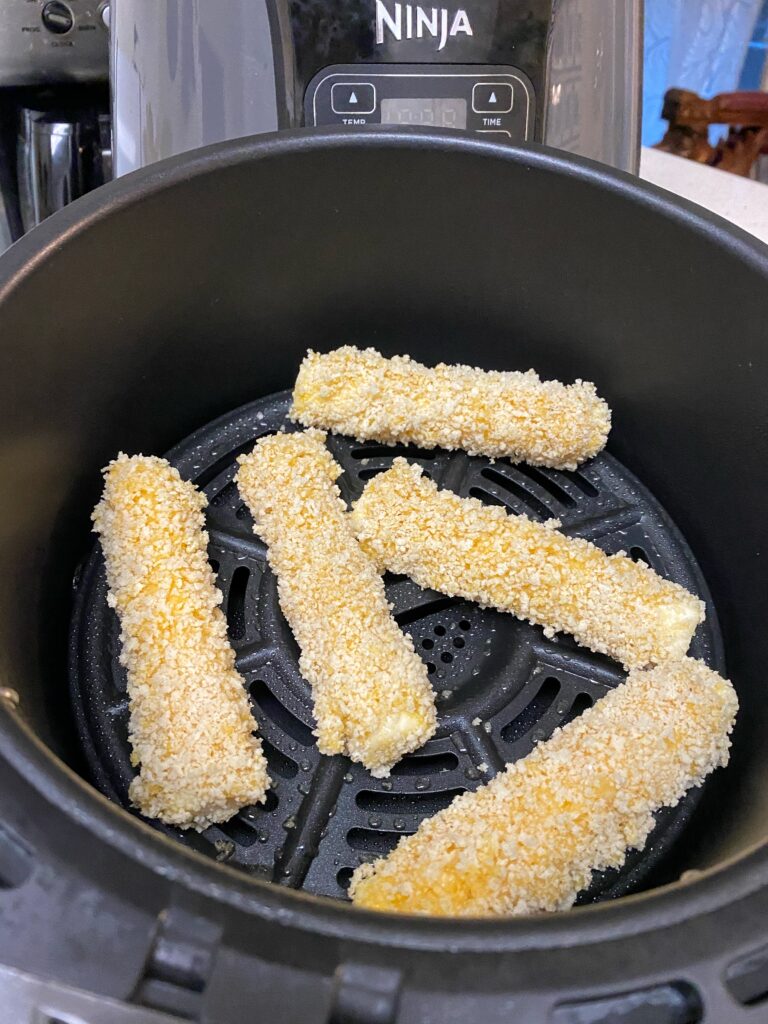 It's possible that you will have to make a couple rounds so that the air fryer is not overcrowded. Luckily, the cook time isn't super long.
Serve with warm marinara sauce.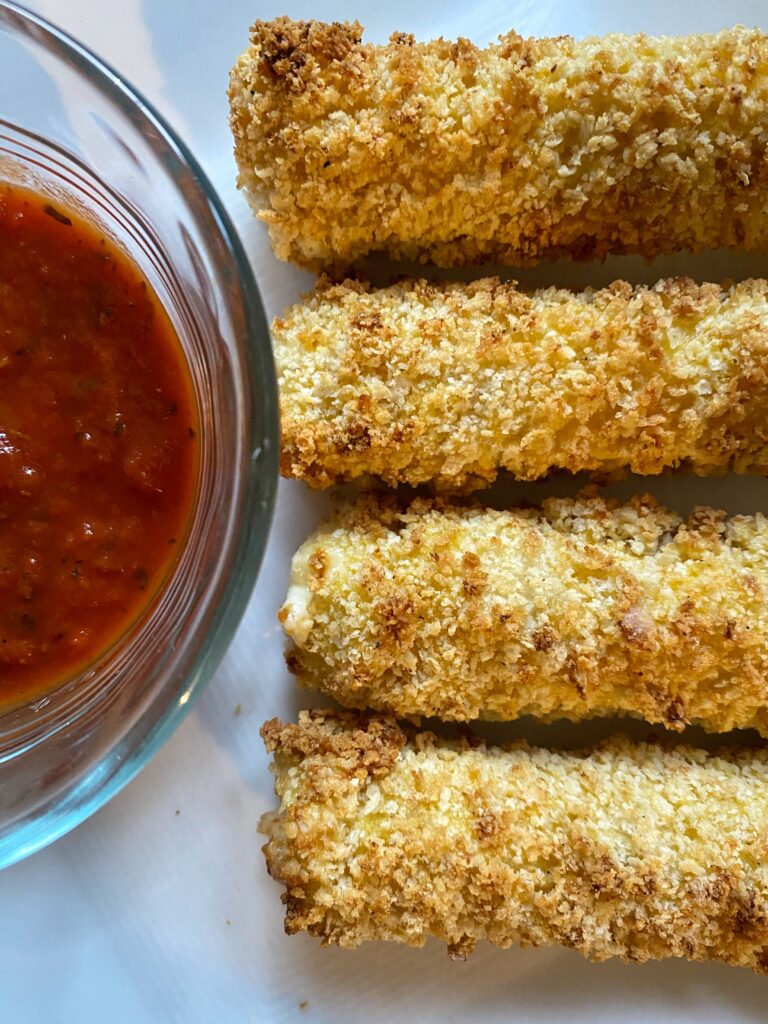 The possibilities are endless with an air-fryer and best of all it takes very little time and the clean up is easy. I'd love to hear about your favorite game day air fryer recipes. Share with the community below.
air fryer air fryer recipes delicious game day air fryer recipes that families love game day game day air fryer recipes game day recipes superbowl superbowl appetizers superbowl party